ACNE CLEANSING WATER WITH AHA ACIDS
soothes and cleanses the complexion
improves the balance of skin oil and moisture
removes dead cells, acne and blackheads
ACNE REPARATION GEL
stabilizes the skin after cleansing
closes skin pores
supports the body's natural defence system
hydrates and strengthens the skin
Form: water + gel
Volume: 115 ml + 60 ml
The Cleansing Water opens skin pores, provides deep cleansing, soothes and smoothes the complexion. It reduces the activity of sebaceous glands, regulates the balance of skin oil and moisture. The Gel stabilizes the skin after cleansing and accelerates regeneration of damaged skin. It improves blood supply, strength and elasticity of capillaries, constricts capillaries and closes skin pores.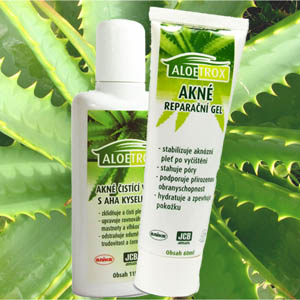 ENLARGE PICTURE
Instructions for use: Use the Cleansing Water to clean the skin with acne slowly and intensively. Then apply the gel. The slightly yellowish color caused by the active ingredients will rapidly disappear after their absorption. The process can be repeated.
Do not use in children under 3 years of age.
Active ingredients:
Aloe vera (cleansing water contains 63 %, reparation gel 80 %) - a gelatinous juice from the succulent plant containing amino acids, minerals, vitamins and many active substances which alleviate pain, improve post-injury conditions, soothe and regenerate the skin in the case of itching, allergy or burns, smooth wrinkles, and heal wounds; while the compound known as lignin improves the ability of other substances to penetrate the skin.
Troxerutin - a modified natural rutin of yellow color which belongs to the group of plant glycosides and originates from plants in Brazilian rain forests. It improves blood circulation, the flexibility of blood vessels, blood supply, healing after various injuries, and reduces leg pain. It accelerates the creation process of new cells and regeneration of the skin after burns, scalds, frostbite and minor injuries.
Cleansing Water:
Schisandra (Schisandra chinensis) - is a plant from China. The active ingredients, derivatives of lignin, stimulate the activity of antioxidants, thus improving the body's natural defense system.
Tea Tree (Melaleuca alternifolia) - is a tall shrub originating from Australia and containing essential oils rich in terpineol, which has antibacterial properties and prevents infections.
Common Soapwort (Saponaria officinalis) - is a perennial plant containing saponins, which provide relief from pain and have anti-inflammatory properties. These substances have cleansing and smoothing effects.
Common Marshmallow (Althaea officinalis) - also known as marshmallow, contains mucilage, carbohydrates and mineral salts. It regenerates and smoothes the complexion and slows down the ageing process.
Ethanol - helps to clean the complexion perfectly, reduces the quantity of sebum.
Panthenol (provitamin B5) - hydrates the upper layers of the epidermis and is necessary for overall regeneration of the skin, has anti-inflammatory, soothing and healing effects.
Vitamin E - the most important antioxidant in the body, protects cells against oxidative stress and effects of free radicals, and therefore it helps slow the ageing process. It promotes the formation of red blood cells, and plays a role in the regeneration and growth of tissues. It improves the general state of health and barrier function of the skin.
AHA acids (fruit acids) - act as a peeling agent, remove dead skin cells, stimulate regeneration of elastin and collagen.
Reparation Gel:
Lappy Burdock (Arctium lappa) - is a stout herb commonly occurring in the northern hemisphere. It is rich in saccharides, and has antibacterial and antifungal properties. It is used for the treatment of skin problems related to oily skin, such as acne.
Wild Thyme (Thymus serpyllum) - is an abundant herb with a strong aromatic fragrance. It contains essential oil with antiseptic properties. It is used externally for skin infections.
Horsetail (Equisetum arvense) - is a plant with two types of stems, of which the sterile and infertile one is used. It has beneficial effects on skin problems caused by lack of oxygen due to insufficient blood supply.
Witch Hazel (Hamamelis virginiana) - is a shrub originating from North America. It improves the blood supply, closes skin pores, reduces the possibility of clogging of the sebaceous glands and thus eliminates acne.
Yeasts - due to their natural content of vitamins, in particular group B vitamins, and minerals (zinc, iron, magnesium, and copper), yeasts are known to improve blood supply to the complexion, prevent drying of the skin, accelerate healing of the skin and normalize sebaceous gland activity.
Vitamin E
Panthenol (provitamin B5)