CARE FOR IRRITATED SKIN
regenerates and soothes:
itchy skin, local irritation
reddening of the skin, rash, hives
insect bites
itching during childhood illnesses
Form: gel
Volume: 75 ml
The gel regenerates, soothes and helps in the care for irritated, excessively dry (psoriatic) and itchy skin, and insect bites. The natural substances contained in the gel repel insects. The gel reduces itching associated with childhood illnesses.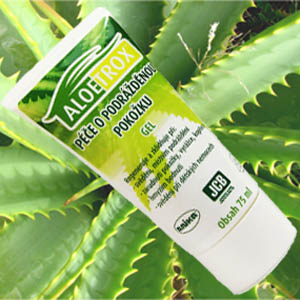 ENLARGE PICTURE
Instructions for use: Apply the gel to the affected skin. A slight yellowish color caused by the active ingredients will disappear after their absorption. Repeat several times daily as needed.
Do not use in children under 3 years of age.
Active ingredients:
Aloe vera (content 78 %) - a gelatinous juice from the succulent plant containing amino acids, minerals, vitamins and many active substances which alleviate pain, improve post-injury conditions, soothe and regenerate the skin in the case of itching, allergy or burns, smooth wrinkles, and heal wounds; while the compound known as lignin improves the ability of other substances to penetrate the skin.
Troxerutin - a modified natural rutin of yellow color which belongs to the group of plant glycosides and originates from plants in Brazilian rain forests. It improves blood circulation, the flexibility of blood vessels, blood supply, healing after various injuries, and reduces leg pain. It accelerates the creation process of new cells and regeneration of the skin after burns, scalds, frostbite and minor injuries.
Lavender (Lavandula officinalis) - a perennial semi-shrub with a characteristic scent, the essential oils have soothing and calming effects; it has antiseptic effects. It helps with skin infections, fungal infections, psoriasis, reduces allergic reactions after insect bites, and repels insects.
Lemon Balm (Melissa officinalis) - a plant from south Europe that contains non-volatile polyphenols, which help with skin infections and skin irritation.
Pot Marigold (Calendula officinalis) - the flowers contain flavonoids, carotenes and a small amount of essential oil. It has soothing effects on itching. It helps with minor injuries, insect bites, reddening of the skin, rash, hives and mild eczema.
Cucumber (Cucumis sativus) - contains caffeic acid, vitamin C and vitamin A. It is used to soothe skin problems, and has beneficial effects in mild allergic reactions, reddening of the skin and insect bites.
Evening Primrose (Oenothera biennis) - the seeds contain oil rich in essential fatty acids, which maintain flexibility and elasticity of the complexion, nourish the skin, play a role in eczema, allergy, and psoriasis, and reduce itching.
Vitamin E - the most important antioxidant in the body, protects cells against oxidative stress and effects of free radicals, and therefore it helps slow the ageing process. It promotes the formation of red blood cells, and plays a role in the regeneration and growth of tissues. It improves the general state of health and barrier function of the skin.
Panthenol (provitamin B5) - hydrates the upper layers of the epidermis and is necessary for overall regeneration of the skin, has anti-inflammatory, soothing and healing effects.
Isopropylmyristate - increases the penetration of active substances through the skin.